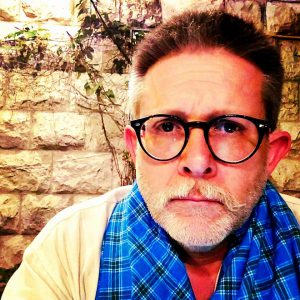 Binyamin Rose (they/them) is a Jungian Psychoanalyst in private practice in Jerusalem. They are a graduate and professional member of the Israel Institute for Jungian Psychology (IIJP), Jerusalem, and is currently researching in sexuality and gender at Bar Ilan University. Binyamin is also a graduate of Oxford, Manchester and London Universities. Binyamin spent a number of years working in Manchester and London in child and adult mental health services, and was a practice tutor for graduate entry social work students. Since moving to Jerusalem in 2006, Binyamin has worked as a manager and lead therapist in adult services in the voluntary sector. They now work in private practice in Jerusalem's city centre.
Areas of Special Interest:
Analytical psychology and sexuality and gender identities
Work with clergy (Jewish, Christian and Buddhist communities).
Psychoanalysis and the arts and the creative process.
Psychoanalysis and parenthood
קליניקה: רחוב הסורג 2, ירושלים
טל: 0526621374
שפות: בעברית ואנגלית
מציע טיפול במחיר מוזל עד 250 ש"ח